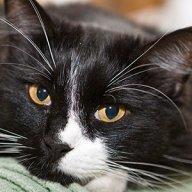 Administrator
Staff member
Beta Tester
Joined

Jan 27, 2005
Messages

11,638
Likes

3,491
Location
Website
Bill, thanks for following this. I appreciate your in depth arguments. I'm still waiting for an Optima pen delivery to complete the project, but I think it will be "au naturel" for now.
On a different aspect of basket illusions, I am impressed by your herringbone wraps. Do you use a skew pen for that? I suppose you use a jig (sliced tube or similar) to sketch in the lines? Although not appropriate for this first project, I would like to learn the technique for something later. I suppose it takes quite a lot of practice to dare to use it to finish a project.
On my first few baskets I used epoxy putty with a Saran Wrap barrier to make a template. Now, I draw a line around the top of the rim with the lathe running and then just freehand the upper part of the herringbone. That is sufficient to start the burning. Once started I can complete the lines by eye. I use a Detail Master skew (no longer available) to burn the herringbone pattern as well as doing the shading and other fine detail lines.
I use a Pentel Hi-Polymer eraser to clean up all of the pencil marks.