Joined

Jan 31, 2021
Messages

18
Likes

4
Location
Thanks in advance for any help.
New to wood turning. Am trying to turn a 5" diameter by 4 " deep straight vertical sided bowl. Been doing OK with push cut down the sides, not as uniform as iIwould like, but not terrible. See first pict.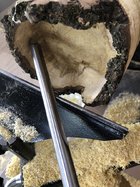 When I first started I would push down the interior wall, then drag across the bottom. See next pict for approximate tool orientation across bottom.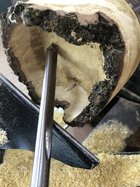 Not sure if this is scrape, or pull cut but was working great with super smooth cuts at beginning. Now I am almost half way down and the tool is screeching and I am starting to get catches. I don't believe I have changed the tool orientation. I tried using a 1/2" round nose scraper, but it was catching really bad.
What am I doing wrong?
Also - this is a wet (green) piece of Catabaw Burl. I may have turned to walls too thin as I am seeing a few hairline cracks like the one below.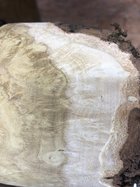 Should I be worried. Can I use super glue o stabilize and move on?