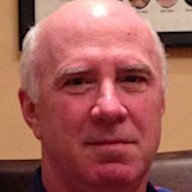 Joined

May 25, 2019
Messages

326
Likes

230
Location
Website
I have an issue sharpening my tools that has frustrated me for quite a while and I believe is causing me to work with dull gouges more than I realize. I'm using the wolverine jig, 8" grinder, 180 grit CBN wheel, 1 7/8 projection. I don't sharpen with handles on the steel. When I sharpen I will often notice that one side will be ground to the edge while the other misses hitting the edge. Usually the left edge misses but sometimes the right. I've attempted different positions on the jig but have never isolated what I'm doing wrong. It's less common on my 5/8 U shaped flute gouge. I usually keep the heels ground down more than you see in the attached pics but was working on the edge a few times so the heel is not ground here. It's as if there is a very slight variation in how the gouge seats in the bottom of the jig when I tighten it down. A slight tilt to one side or the other perhaps? For now I'm putting sharpie marks on every time I sharpen to be sure I get the edge. It's easy to think since it's shiny it's sharp but if you look very close you could still see sharpie color just along the edge - not sharp. In the two pics you can see first pass - more blue, second pass - less blue. Third pass was not blue but then I'm not sure I really got a good edge. I've adapted by simply making multiple passes on the missed side but believe that isn't giving me a really sharp edge. I can actually tell sometimes when I grab a "sharp" gouge and know right away it's not.
My technique for rolling side to side is off?
My setup vs the curvature of the 8" wheel over time creates a curve that makes it harder to get the edge?
Slight tilt to one side or the other when tightening the jig?
Why would it be in the middle of the edge and not the entire edge?
Too much curve in the wing?