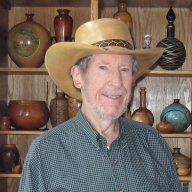 Joined

Apr 10, 2010
Messages

673
Likes

546
Location
There has been a recurring issue as to whether (or when) a conventional flat topped scraper, tilted downward to produce a negative rake, is equivalent to a negative rake scraper (NRS). Clearly conventional scrapers work and are far more common than NRS's. The issue here is whether they are actually NRS's in disguise. For this discussion, I will define a NRS to be a flat scraper in which the upper edge has been ground off at an angle such that when the scraper is presented in a horizontal orientation, the scraping face is angled down by a desired amount (negative rake). Also, I will ignore burrs, because they can be raised equally well on either type of scraper.

When is a conventional flat scraper, tilted downward to produce the same rake angle as a NRS, equivalent to that NRS? The short answer is "when the point of scraping is broadside to the tool rest at the point where the scraper rests (and tilts)" and the tool rest height of the conventional scraper has been adjusted to scrape at the same height on the wood". This is a simple matter of geometry. In this situation, the scraping edge is presented to the rotating wood in exactly the same way in either case. Furthermore given this situation, if the tool rest is parallel to the wood being cut, one could simply slide the scraper along the rest, maintaining the same tilt angle, and the results again would be the same as that of a NRS. This situation might arise for example when scraping the inside or outside of a bowl using an appropriately curved tool rest.

Now suppose that the tool rest is not parallel to the wood being cut. A common example would be scraping a curved turning using a straight tool rest. In this case, having adjusted the rest height correctly for a particular point along the rest, we would find that if we were to slide the conventional scraper to scrape a different region of the wood, we would need to move the scraper in or out and readjust the rest position and height to maintain the same scraping conditions. If instead of sliding the conventional scraper, we were to swing it flat on the rest, to either side in order to scrape an adjacent area, the scraper would rotate slightly, yielding a shearing presentation to the wood, and each point of contact with the wood would occur at a slightly different rake angle and different scraping height. In contrast, in either case, the NRS, if held level, would require only moving the scraper in or out to follow the contour of the wood. Clearly, in these situations a tilted conventional scraper is not equivalent to a NRS. While it might achieve the same satisfactory end result in its own way, the conventional scraper would require frequent tool rest adjustments in order to mimic the NRS at each step of the way.