This site uses cookies. By continuing to use this site, you are agreeing to our use of cookies.

Learn More.

ATTENTION FORUM MEMBERS!

Guest, if you have not yet updated your forum bookmark to a secure log in connection, please delete your unsecure book and add the following secure bookmark: https://www.aawforum.org/community/index.php

You can dismiss this notice by clicking the X in the upper right of the notice box.

Dismiss Notice

Seedbox
Inspired by the seed pods of the plant Ludwigia alternifolia. It is commonly known as seedbox, square-pod water-primrose and rattlebox among others. The real life version is about 1/4" in size and it does have a hole in the top and the seeds will rattle around in the box. The pods will get water borne and float around scattering seeds as it goes. 

The pods were all turned on 5 axes, hollowed on one of them. I then carved the result to final form. The base is a piece of maple burl that looked to be perfect as a simulation of ground. The stem was a fun and different project for me. I used 1/8 brass rod and bent it to look natural then soldered all the branches on. The whole stem was then covered in epoxy putty that was then carved to look close to original stems. An interesting project altogether.

Maple, Maple burl, Brass Rod, solder, epoxy, acrylics, Krylon matted to knock down the gloss of the acrylic.
14"h x 8" x 8"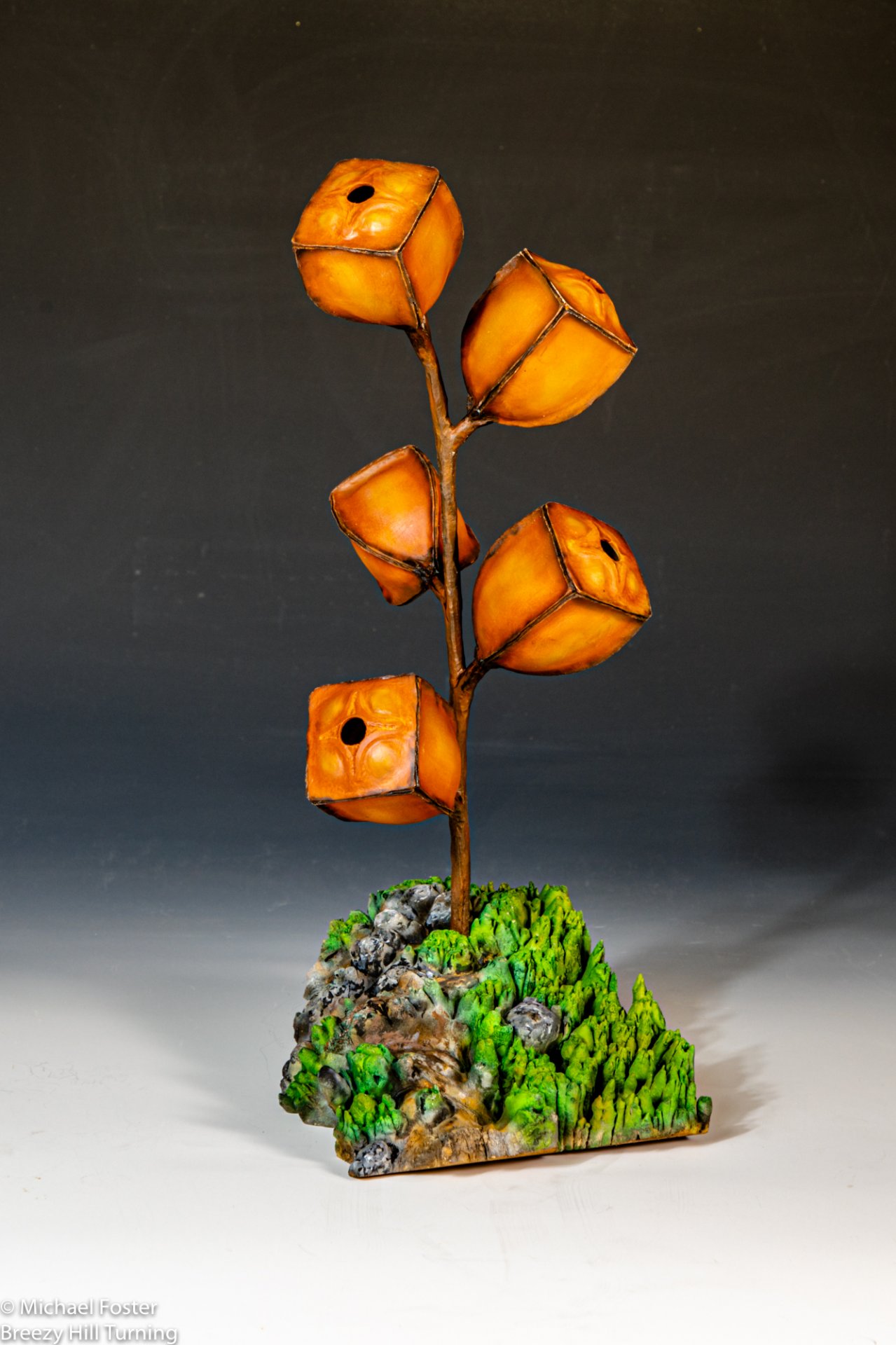 Category:

Uploaded By:

Date:

Nov 15, 2020

View Count:

126

Comment Count:

1

EXIF Data

File Size:

1.4 MB

Mime Type:

image/jpeg

Width:

1333px

Height:

2000px

Aperture:

f/11.0

Make:

Canon

Model:

Canon EOS 5D Mark IV

Date / Time:

2020:11:15 17:58:15

Exposure Time:

8/10 sec

ISO Speed Rating:

ISO 100

Focal Length:

70 mm

Note: EXIF data is stored on valid file types when a photo is uploaded. The photo may have been manipulated since upload (rotated, flipped, cropped etc).